Welcome
Triennial Recap
One of the highlights of the 2018 Triennial was a special visit to NAGA by Presiding Bishop Michael Curry on Monday, July 9. At least in the memory of those in attendance, this the first time we have been so honored.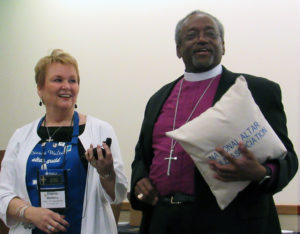 Despite a demanding schedule, PB Curry has the knack of being totally present wherever he is, and to make people feel that he has nowhere else he would rather be! Everyone was totally inspired by his presence. Incoming President Dianne Walters and Retiring President Lynn Hendricks presented Bishop Curry with NAGA-logo pillow, which he assured us would have a permanent home on his office rocking chair.
Other highlights include a NAGA Eucharist where we had our hands blessed, our participation in making all the Eucharists at General Convention run smoothly, a wonderful keynote program on Hospitality, numerous interesting workshops, and a day-long field trip to some of the Texas Hill County's painted churches. The week concluded at Good Shepherd Episcopal in Austin with a Eucharist and Installation of Officers.
Read more about these Triennial events and workshops — and others — below.
_______________________________________________________________
Gracious and loving God, we come before you as your children, praying your blessing on each one of us, praying your blessing on the ministry of the National Altar Guild and on altar guilds throughout the Episcopal Church. We pray that you will bless them so that they will continue to exercise their ministry of beautifying your sanctuary for the edification of your people…
Demi Prentiss was listed on our schedule as the "keynote speaker" for the meeting, but her presentation was much more than just a speech. She spent several hours with us, during which we listened to her and to fellow participants, moved around in the room to discuss various topics and situations, and spent some time thinking about…
When you look at an oyster, would you ever imagine something as beautiful as a pearl could dwell within? That's how I feel about the painted churches! Plain on the outside; amazingly beautiful on the inside…
It was with great anticipation and a bit of anxiety that I arrived in Austin Friday morning to attend my first Episcopal Convention. Within an hour of my arrival, I coincidentally crossed paths with…
__________________________________________________________________________
Connect with NAGA  
Membership. NAGA depends on dues to produce the Epistle and provide speakers and workshops at our triennial meetings. If you aren't already a member, learn more about NAGA and join us today.
Order your Epistle in living color. Send your e-mail address to Donna Anderson.
Invite NAGA to your next gathering. Please contact our President, Dianne Walters, if you would like her join you for a diocesan gathering or other event.
Share your insights with others. We are happy to share your altar guild newsletter on our website. Please send a PDF of the current issue to our webmaster Betty Hinchman.
Who's Who? Who are your current Provincial and Diocesan Altar Guild Directors? Please send current contact information to Donna Anderson or Dianne Walters.