Welcome
A message from our new President.
As I reflect on our nine days together at General Convention, I keep coming back to the words of our Presiding Bishop-elect, the Rt. Rev. Michael Curry, in his sermon on the final day of Convention. His message of love God, love your neighbors and change the world inspires me. As the hymn says, "Go forth for God…go to the world in peace…in love…in strength…in joy." It is a message I invite all of you to embrace as you go about your altar guild ministry.
As your new president it is my hope and desire to increase awareness of NAGA and the services we provide. This is not something I can do alone. With your help and the help of each of our bishops, we can grow and share the blessings of our ministry not only at the parish level but at the diocesan and national levels as well. So I encourage you to, "Go Forth for God…" and receive His multiple blessings.
_____________________________________________________________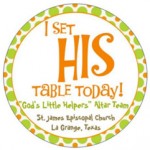 Altar Guild…the next generation
At our meeting in Salt Lake City, I had the pleasure of sharing how our little parish in Texas was able to foster an interest and gain new team members by inviting the children to help us. Later, several asked me "What exactly did you do?" So, I thought perhaps I would take this opportunity to share in finer detail how we did it…
The altar guild of every church embodies Christ's call to serve. You are the backbone of the church and ambassadors of God's Kingdom. Very few people understand what it means to have a dedicated team of Christ's disciples gathered…
Connect with NAGA  
Who are your current Provincial and Diocesan Altar Guild Directors? Please send current contact information to Deborah Bradley.
Please contact our President, Lynn Hendricks, if you would like her join you for a diocesan gathering or other event.
If you have stopped receiving your issues of our informative newsletter, Epistle, your dues could be in arrears. We value all of our members and sincerely hope you will continue to be part of our community. For questions about membership or how much is owed, please contact David Hawley-Lowry. If you aren't already a member, learn more about NAGA and join us today.
Recently Added
Topics
Popular topics