Welcome
Triennial Reap
One of the highlights of the 2018 Triennial was a special visit to NAGA by Presiding Bishop Michael Curry on Monday, July 9. At least in the memory of those in attendance, this the first time we have been so honored.
Despite what we know to be a demanding schedule, PB Curry has the knack of being totally present wherever he is, and to make people feel like they are totally important and that he has nowhere else he would rather be! Bishop Curry's address to NAGA spoke of his fond memories of altar guild members over the years, and ended with "Thank you for your ministry, thank you for your service, thank you for the way your ministry creates an atmosphere of hospitality so that people might really encounter the Living God and then go into the world to serve Him in Jesus' name."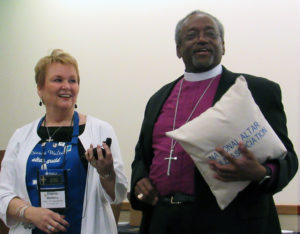 Everyone was totally inspired by his presence. Incoming President Dianne Walters and Retiring President Lynn Hendricks presented Bishop Curry with NAGA-logo pillow, which he assured us would have a permanent home in his office rocking chair.
Other highlights include a NAGA Eucharist where we had our hands blessed, our participation in making all the Eucharists at General Convention run smoothly, a wonderful keynote program on Hospitality, numerous interesting workshops, and a day-long field trip to some of the Texas Hill County's painted churches. The week concluded at Good Shepherd Episcopal in Austin with a Eucharist and Installation of Officers.
Come back to our website for more information on Triennial events and workshops.
_______________________________________________________________
A History of the NAGA Cross
The cross design is a "modified" Celtic Cross, the circle being elongated rather than round. The cross bar represents an altar,  with cross and vested paten and chalice in the center and a lit candle on either side. It is engraved on the back: Martha Walker Hayes 1971…
My first awareness of the ministry of the altar guild comes from my childhood. I remember my mother regularly excusing herself from life at home to work with other altar guild members. At the time I had no idea what she did, I simply knew that it had something to do with getting the church ready for services the next day….
__________________________________________________________________________
Connect with NAGA  
Membership. NAGA depends on dues to produce the Epistle and provide speakers and workshops at our triennial meetings. If you aren't already a member, learn more about NAGA and join us today.
Order your Epistle in living color. Send your e-mail address to Donna Anderson.
Invite NAGA to your next gathering. Please contact our President, Dianne Walters, if you would like her join you for a diocesan gathering or other event.
Share your insights with others. We are happy to share your altar guild newsletter on our website. Please send a PDF of the current issue to our webmaster Betty Hinchman.
Who's Who? Who are your current Provincial and Diocesan Altar Guild Directors? Please send current contact information to Donna Anderson or Dianne Walters.
Recently Added
Topics
Popular topics